What is a Special Assessment?
Special Assessments differ from property taxes.  A special assessment is the cost of infrastructure and community improvements such as curbs, roads, sidewalks and waterlines.  The costs are assessed to properties in an area that will benefit from the project and divided among the property owners.
Special Assessment District 228
The Special Assessment District 228 (S.A.D. 228) applies to Volcano Cliffs Subdivision unit 14, nit 18, unit 19, unit 22, unit 25, unit 26, and unit 27.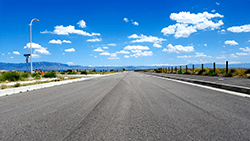 The assessment is intended for public infrastructure improvements that include: private utilities (e.g. natural gas, electricity, phone, cable television), road paving, water, drainage and a sewer system.
The list price of some land listings may include the special assessment cost (e.g. $55,000).
Other land listings may not reflect the special assessment in the list price.  A local Syan Real Estate broker can assist you with determining which listings include or exclude the cost of the special assessment in the list price.
Construction of SAD 228 was completed at the end of May 2014.  Building permits were available for application starting in June 2014.
Have Questions? Need Help?
We're here to assist you.  Feel free to call, text Syan Real Estate at (505) 730-8181 or e-mail us.